New York cannabis legalization will pair with neighboring states, governors say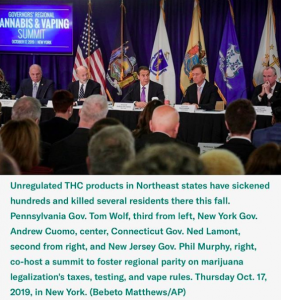 The governors from several Northeastern states said Last week they want to work together to regulate marijuana and vaping, including possible regional restrictions on flavored vaping products.
Democratic governors from New York, Connecticut, New Jersey and Pennsylvania met in New York City with health and legislative officials. Representatives from Massachusetts and Colorado were also on hand for the meeting.
Link to story: bit.ly/33YI8et