The Dis-United States of Cannabis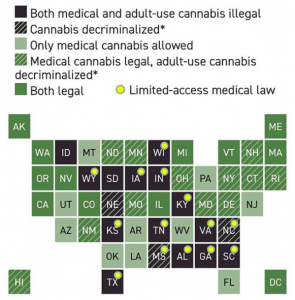 In the absence of federal action on cannabis, states have passed a patchwork of laws for adult-use and medical marijuana. Although federal law still designates marijuana as an illegal Schedule I drug, 48 states have laws on the books that allow or decriminalize the use of cannabis in some form.
Eleven states and Washington, D.C. have legalized — and 15 states have decriminalized — adult-use cannabis, which usually allows retail sales and home-grown marijuana on a mixed basis. A majority of states have enacted medical marijuana laws, which allow eligible patients to obtain or grow cannabis to treat a range of conditions.
POLITICO's cannabis legalization tracker will be updated on an ongoing basis.
Link to story: politi.co/35EM3yE